Should My Small Business Provide Health Insurance?
Should My Small Business Provide Health Insurance?
As a small business owner, one of the many business costs you have to consider is the cost of health insurance, should you choose to offer health insurance as a benefit to your employees. To make the decision of what, if any insurance product to offer its employees, the owners of a small Chicago-based company with just four employees (including themselves) considered the health care needs of its employees, their own family medical needs, and cost. The two owners of this company are married and have three young children, one who suffers from asthma. The family also happens to be on a very tight budget.
Individual Health Insurance
Given the size of this business, it had the option of not providing any insurance for its two non-owner employees. Only companies with more than 50 full-time equivalent employees are required to provide health insurance under the Affordable Care Act.
If the business decided against offering a health insurance benefit, the owners, as well as the employees, would have to obtain individual health insurance through Illinois health marketplace. If the company chose to do so, it could contribute to the employees' monthly premium or other health care expenses through a health reimbursement arrangement (HRA). Under such an arrangement, the employer could contribute toward these costs in any amount up to federally-defined contribution limits.
People who obtain insurance through the federal exchange or a state run marketplace are eligible for subsidies to reduce the cost of premiums. The income limit for these subsidies varies based on family size, but both employees are single and make more than $60,000 per year, so the owner was certain that neither would be eligible for subsidies.
SHOP Marketplace
The SHOP Marketplace is a federal or state-operated exchange that sells small group insurance and is designed for small employers who meet certain requirements. These requirements vary at the state and federal level. Small businesses in Illinois use the federal SHOP Marketplace, which: 1) requires employers to contribute at least 50 percent of the cost of employee premiums, 2) have fewer than 25 full-time equivalent employees, and 3) pay employees less than an average of $50,000 per year.
If these requirements are met, the business likely qualifies for the Small Business Health Care Tax Credit, which could be worth up to 50 percent of the cost of employee premiums. Unfortunately, this business pays its two employees a salary that exceeds the limit to qualify for the tax credit.
Small Group HMO Plan
Because of the income level of its employees, the best option for this company was to find a group plan using an online broker like SimplyInsured.
A group HMO plan would provide the business owners and their employees with lower out-of-pocket costs and lower monthly premiums than a PPO plan. This was key, given the owners' tight budget. The owners of this business used SimplyInsured's Doctor Search tool to confirm that their children's doctors were in the provider network for their top HMO plan choices. If the child with asthma needed to see a specialist, that care would likely have to be arranged through the family's selected PCP. Luckily, it was possible to confirm ahead of time whether treatment with that specific specialist would be covered under the selected HMO plan.
Plans compatible with the the Affordable Care Act must cover preventive health services for children, including well-baby and well-child visits, as well as vaccinations, so the owners don't have to worry about those costs. Because HMOs function within a specific network of providers, HMOs have the ability to obtain bulk rates for prescriptions, making the cost lower for members. Furthermore, co-pays are generally low with no attached deductible, or a very low one.
After running comparisons on SimplyInsured, the business owners found that several health insurance plans that met the needs of their family. The owners paid close attention to the out-of-pocket estimates for doctor visits and prescription drugs.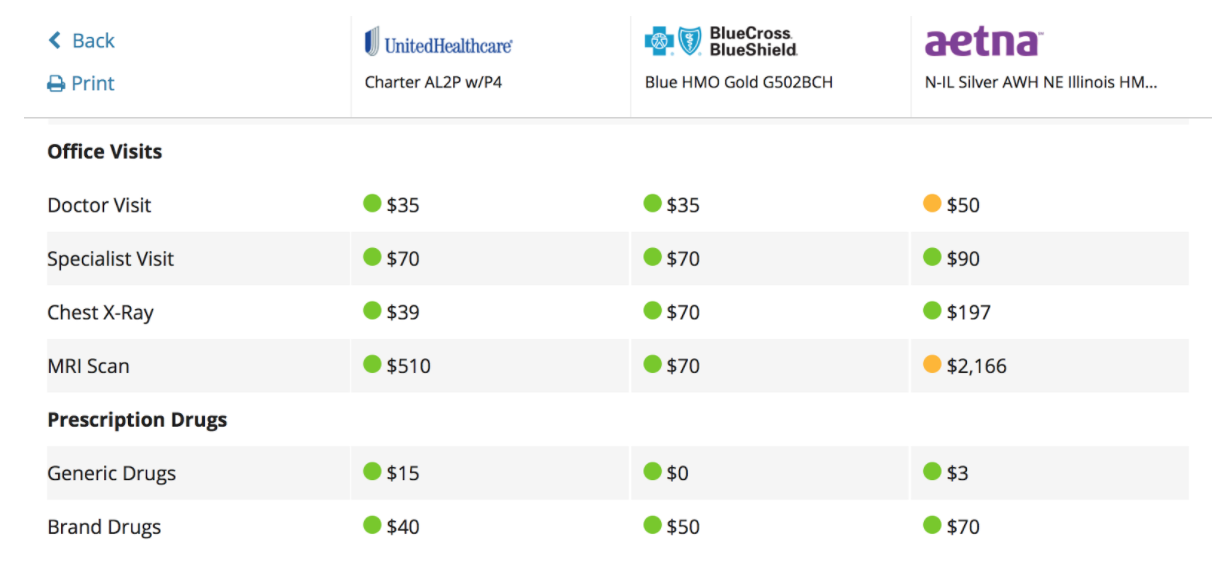 What's The Best Solution?
Given the fact that this company's two employees would not be eligible for subsidies to help cover the cost of health insurance premiums, it did not make sense have employees obtain health insurance on their own. Furthermore, though the Small Business Health Insurance Tax Credit was appealing, this company pays its employees a salary that exceeds the limits set to qualify for the credit. That took the SHOP Marketplace off the table. Finding a tax-deductible group insurance plan was the best solution.
Using SimplyInsured suite of comparison tools, the company ultimately decided to offer its employees the UnitedHealthcare Charter AL2P w/P4 HMO plan. After confirming that the their child's asthma specialist and pediatrician were covered under all three plans, cost tipped the scale in this plan's favor.