When Offering Plan Bundles Makes Sense
Multi-State Employees With Diverse Medical Needs: Plan Bundles
Sometimes selecting what type of insurance to offer your employees isn't as simple as choosing a single plan. A multi-state employer based in Texas with 15 employees who have very diverse health care needs recognized this. Offering multiple plans gave this company's employees the freedom they needed to select coverage that best fits their needs.
Multi-state employers have to be strategic when selecting what plans to offer employees. HMO plans, for example, function within a specific, small and usually localized network of providers. Out-of-state providers are generally out-of-network. It would be of no benefit for this employer to offer a single HMO plan with a network of providers who are hundreds of miles away from some of the company's employees.
SimplyInsured has an easy-to-use tool that walked the employer through a series of questions including number of employees, age of employees, medical needs and preference of employees, and whether the employees are in multiple states.

Once the business owner input this information, SimplyInsured's tools also allowed the owner to choose between a bundled package of health insurance plans or individual plans.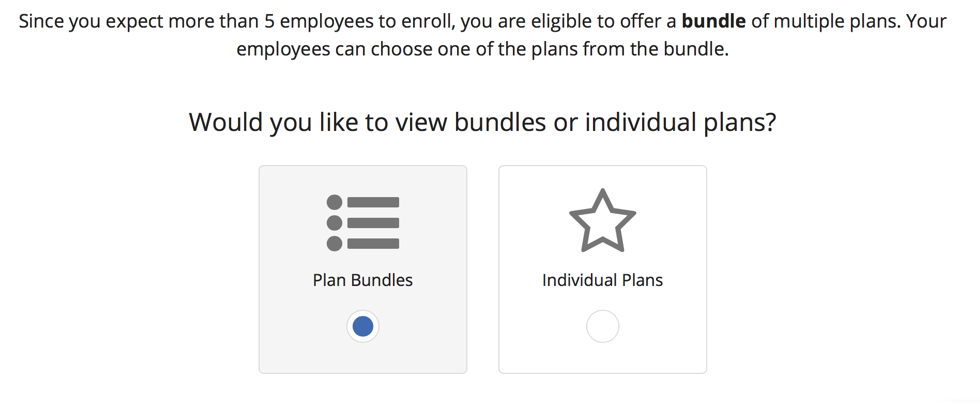 The owner of the company knew that her employees had a wide range of medical needs. Some employees would prefer to pay a higher premium in exchange for a more flexible insurance plan that provided more coverage for the medical care. Other employees, however, rarely visited the doctor, so would see no benefit in paying a higher monthly premium for health insurance. Factors that impact the cost of monthly premiums include network size, deductible amount, as well as out-of-pocket cost for doctor visits, for example.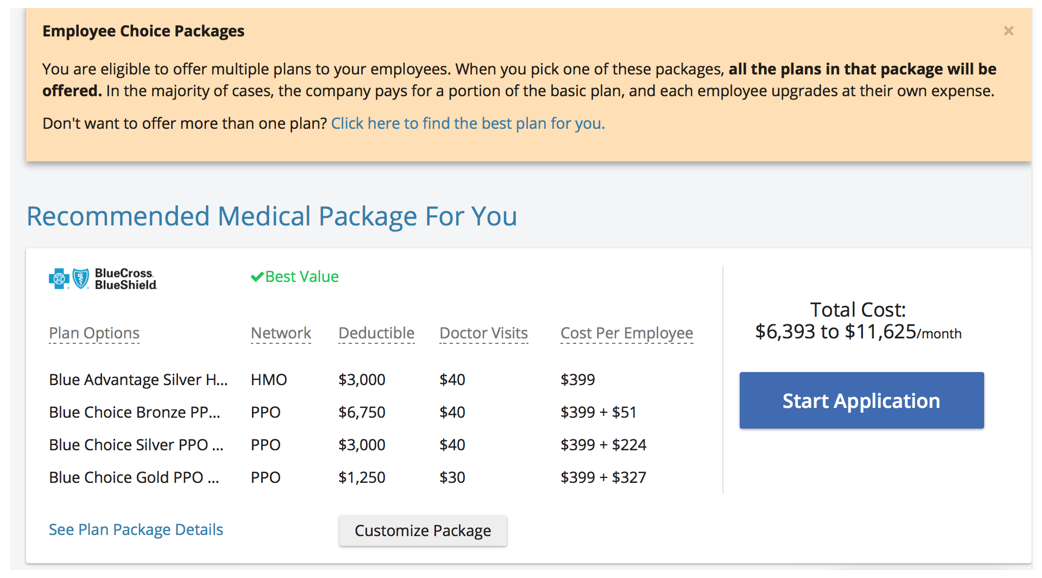 Because of the employees' range of needs, the employer decided to offer three insurance plans within the package recommended by SimplyInsured; bronze, silver and gold PPO plans from BlueCross BlueShield. The owner selected the best value package recommend by SimplyInsured because it met the needs of her employees and was also the least expensive package available.
The Blue Choice Gold PPO plan best suits the company's employees with chronic medical conditions and diverse health care needs. Though the monthly premium is higher, these employees will ultimately face less expense as they make their necessary doctor visits. On the other hand, the Blue Choice Bronze PPO plan has a lower monthly premium, and less coverage, but best suits the employees with few, if any, health care needs.
If you decide to go with one of SimplyInsured bundled packages, you don't have to offer every plan the package includes. You have the ability to select the plans the meet the needs of your business. The owner of this company decided against offering the HMO plan that was included in the SimplyInsured bundle because the plan wasn't a good fit for employees in multiple states.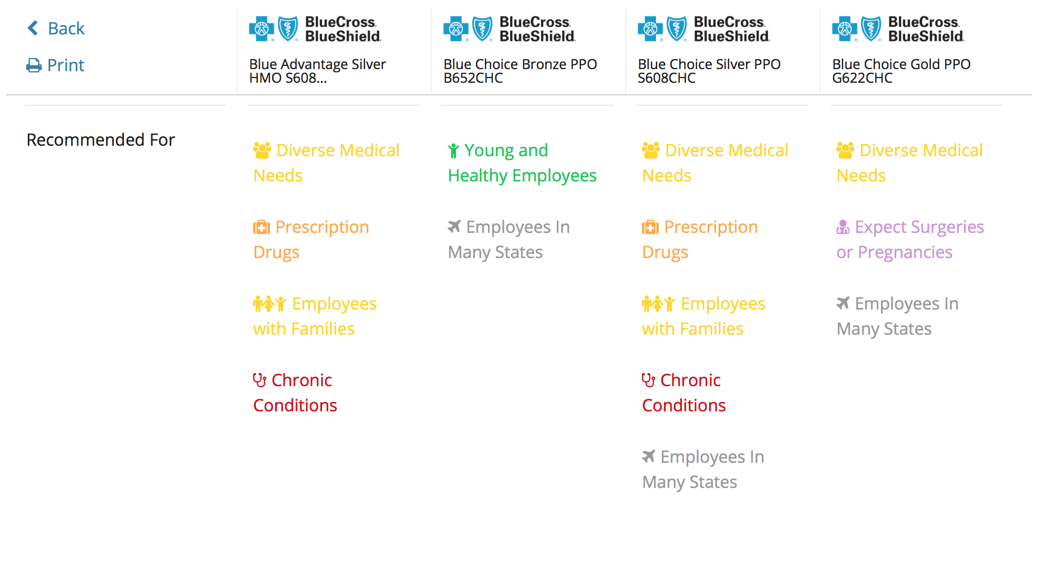 As a business owner, you don't need to know the full medical history of your employees, but you can obtain valuable information about what health insurance benefits would best suit their needs by having details as simple as whether they have any doctors they see regularly, if they have children, or if a once a year check-up is all they currently need. When the responses are varied, choosing options for your employees eliminates some of the pressure in determining a single plan that meets all of your employees' needs. SimplyInsured's tools makes the process even easier by bundling plans into a recommended package.